We have updated this article on the 12th June 2020 to address some of the questions that we found last week.
Face coverings MUST be worn on journeys in England from 15th June. This includes in stations as wel as on the train. There are exemptions for babies, Children under 11 years old, people with disabilities and those with breathing difficulties

Allow EXTRA TIME for your journey due to social distancing.
Content
Planning your journey
Booking your journey
Your Journey (with Northern)
Avanti – differences
Trans Pennine – differences
Assisted Travel
Further Information
So will you be starting back to work soon? Do you need to get there by train? You can't wait, or are you a little anxious? As WWO had to take an essential business trip from Wigan last Thursday (9th June), we thought we would share our experience, in case it may assist. Hopefully it can help you to anticipate what you need to do to plan your essential train travel from Wigan, or elsewhere.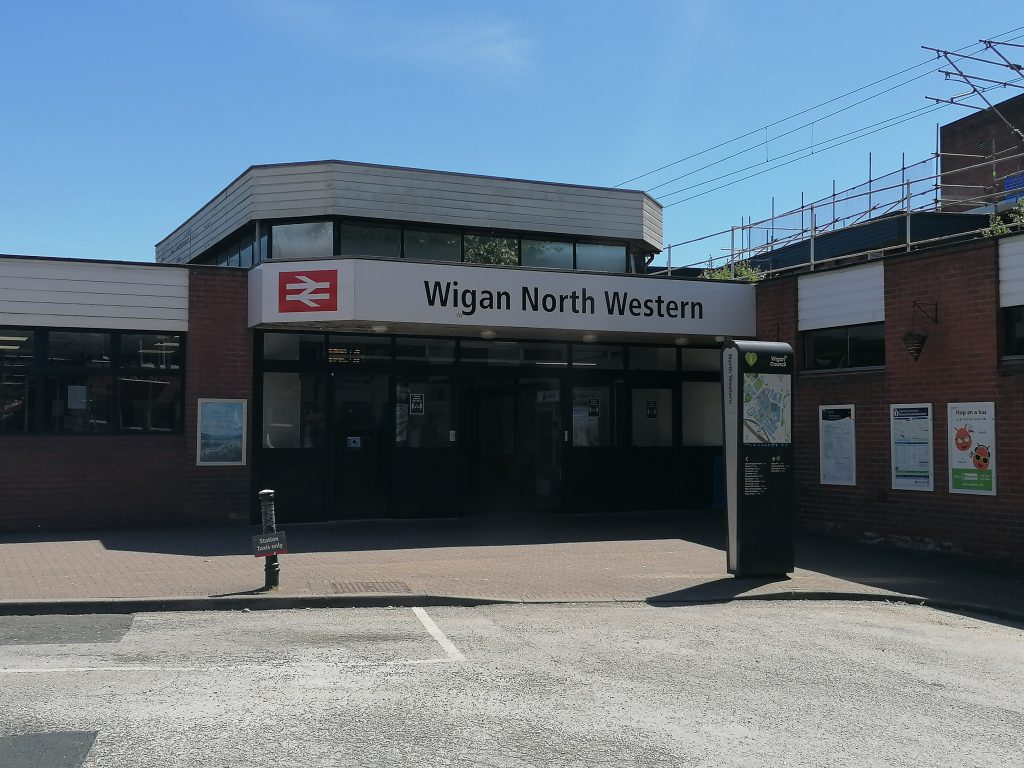 What if I Need to Speak to Someone about Essential Train Travel from Wigan?
Before you read the rest of this article, it is worth remembering a few points that could otherwise cause confusion.

– Not all stations are run by the same company.
– Not all trains are operated by the same company.

The point being that you may get a different experience with your journey depending on not only the train, but the station too. It is useful to know if you need to check anything out with the relevant operator before during or after travel.

Wigan North Western station is operated by Avanti West Coast (formerly Virgin until December 2019). Wigan Wallgate and most of the other Wigan area stations are operated by Northern Trains.

With the exception of Wigan North Western, the majority of trains from all other Wigan stations are managed by Northern Trains. However from Wigan North Western trains are operated by Avanti, Northern and Trans Pennine depending on your journey.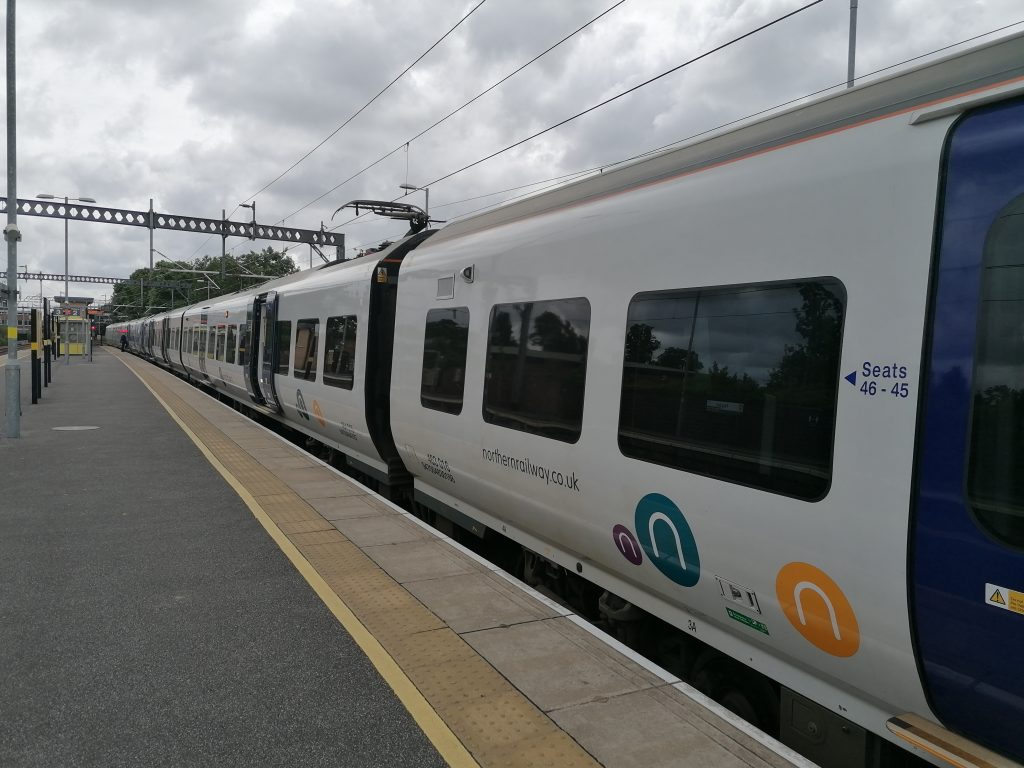 While I made my journey on a Northern service, I did manage to judge the station measures that Avanti and Northern have implemented. Clearly I can comment on the train facilities Northern have provided.
Another WWO colleague travelled by Avanti on a return service from Wigan North Western to Preston on the London to Glasgow Service. We do refer to any key differences between Northern, Avanti and Trans Pennine in the Final Thoughts section towards the end of this article.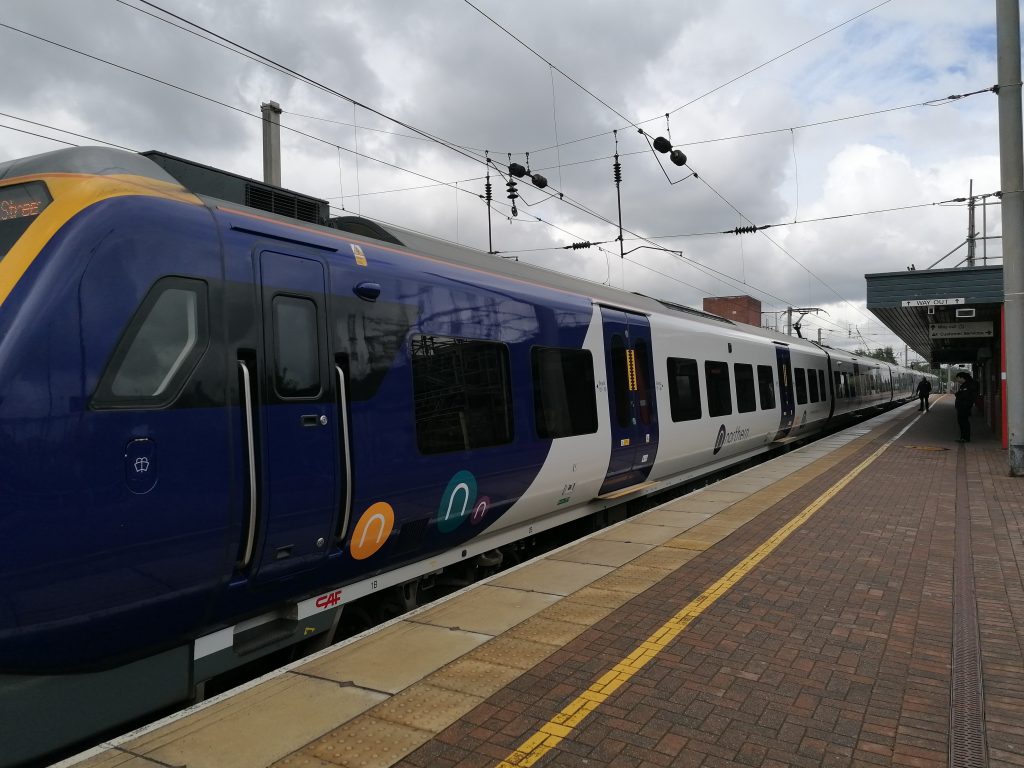 Planning the Train Journey
Before setting off, it was worthwhile checking which trains were running. After that it was also sensible checking if my rain was running as stated in the timetable. As all train franchises are now suspended until October ,using trainline, an independent digital train service, was a good move to keep on top of it all.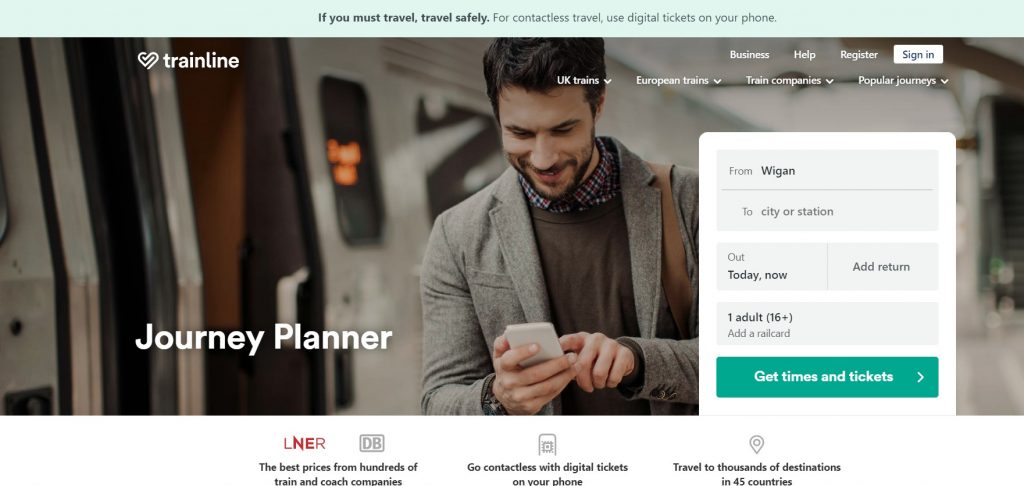 The trainline website is available by clicking the green button below. However I would recommend installing the App which can run on Android or IOS phones for ease of use prior to and during your journey.
Using the App (the trainline one, not the one the government has stopped mentioning these days!), I could get any last minute alteration to scheduled services right up to my train arriving at the station.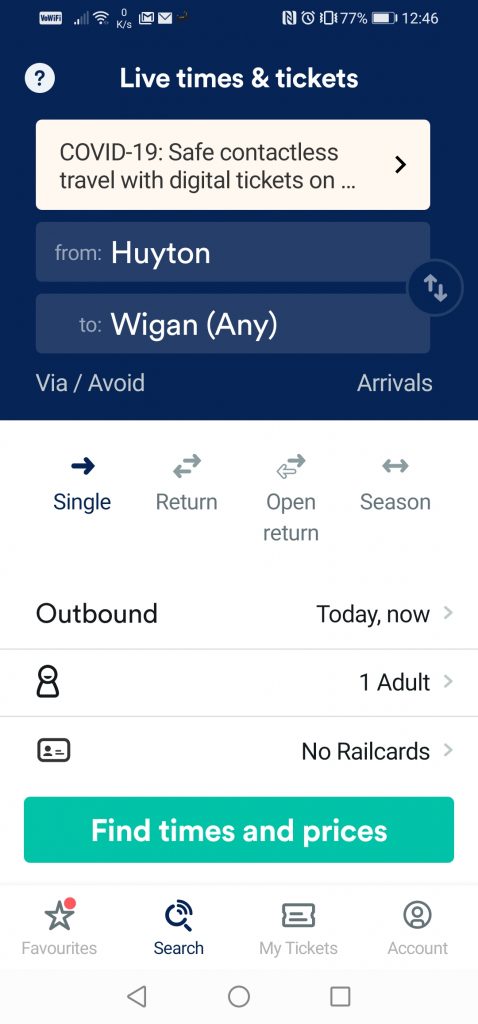 As it was my first essential trip following lockdown easing, I went for an off peak travel time. A single ticket: 10:48 am from Wigan North Western (originating in Blackpool) to Huyton (final destination, Liverpool Lime Street). The idea was that I could avoid the Lime Street city centre station as my meeting was in the city suburbs.
Booking a Ticket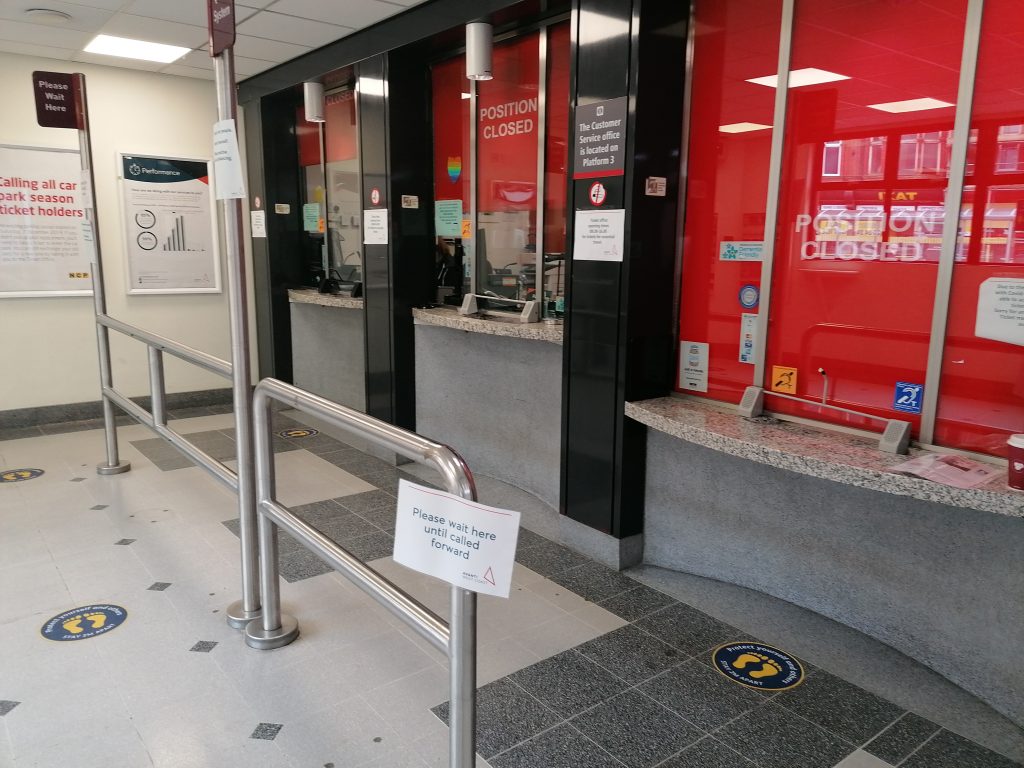 This is where I really liked the Trainline App. I could wait right until I knew the train was not delayed before paying for my ticket online. Check the train punctuality, then it was a single key press to buy an electronic ticket right to my phone.
No worry about leaving enough time to book the ticket.
Travellers avoid contact with station booking machine surfaces.
No need to touch the card machine and paying at the booking office.
Removes the need to hand paper too and receive it back from on train guards and ticket collectors at the station.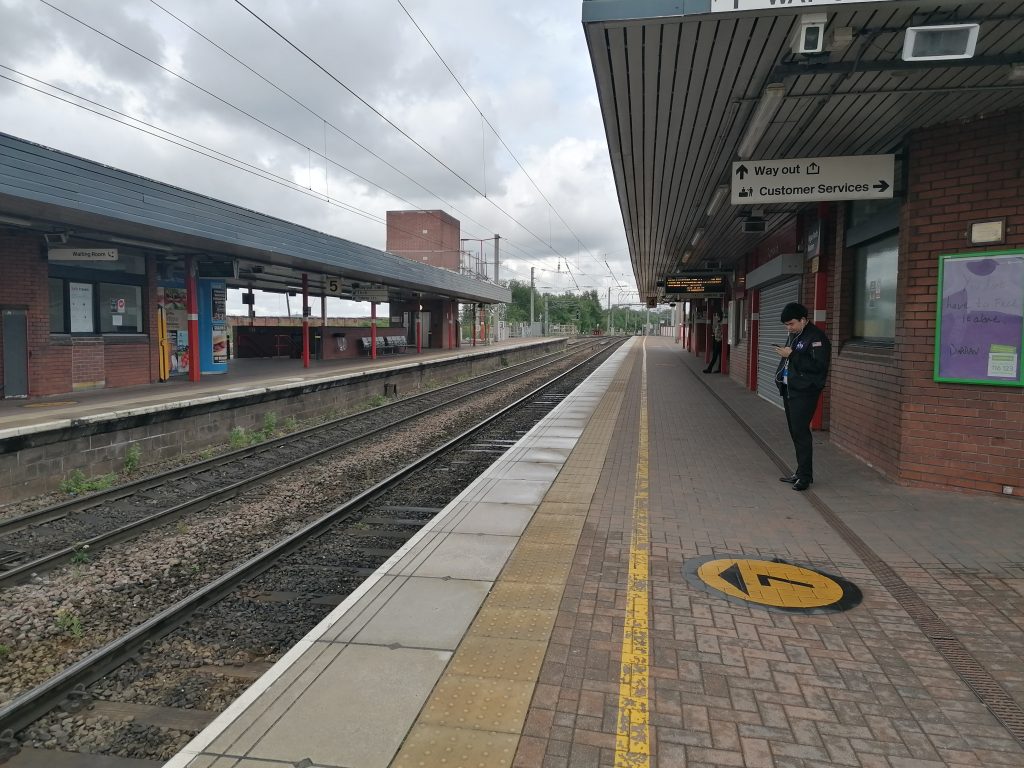 However, I would recommend giving serious consideration to how late you can leave booking your ticket. If you travel at busier times it might cause a problem. You probably need to consider how popular your destination might be too.
Making the Journey from Wigan North Western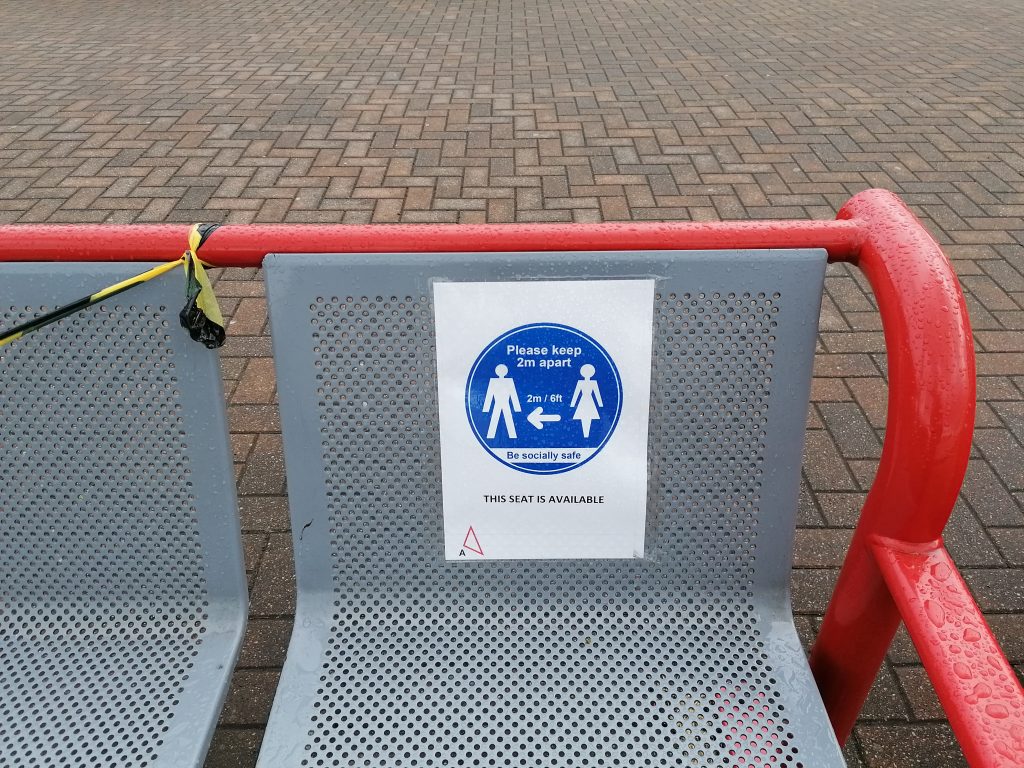 So without having to worry about getting the ticket until the train had arrived, it was a taxi ride to he station from home. On arrival, the station was very quiet, car and passenger wise. There were plenty of reminders on social distancing and essential train travel only, right from the entrance.
There are no shops or waiting rooms open on any of the station platforms. If needed, both McColl's (next to Wallgate station across the road) and Station News were open.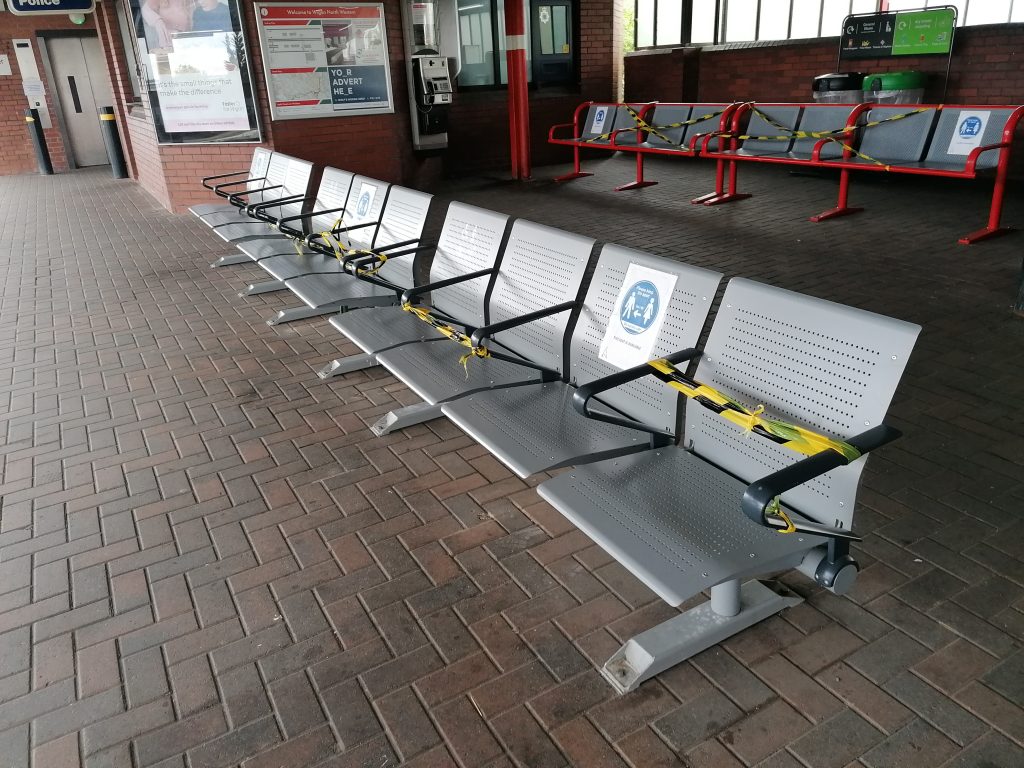 The station authorities have also taped off many of the station seats to ensure social distancing. So as a result, I'd recommend not hurrying up to the platform until your train is close to arriving. However I would be concerned how busy the station booking area could be if everybody else has the same idea. Fortunately for me, there were only three people waiting to get the train.
Train Operation by Northern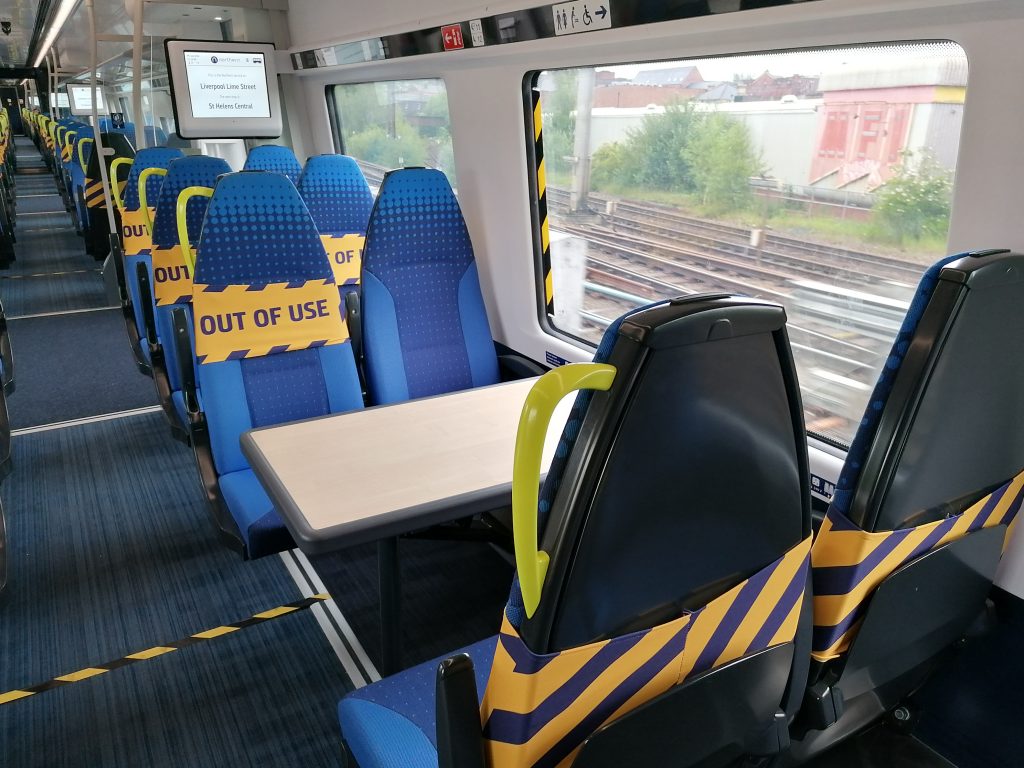 Great that the train was comprised of 6 carriages, all very comfortable being one of the new Northern Trains. The interior pictures clearly show just how many seats are designated as out of use. A table with 4 seats has only one in use. Where there is no table, three out of the four seats across the aisle were also taped off. Northern quote that capacity has been cut by a whopping 85%. On the plus side 98% of trains now arrive within 5 minutes of schedule!
The journey to Huyton stopped at St Helens Central only. People getting on here was also in single digits.
The train was spotlessly clean, although I could not find any on board bins. I would imagine this is for hygiene reasons. I had no problem accessing the free wi-fi and it worked admirably throughout the journey.
No ticket checks were made prior to getting on the train or while on it.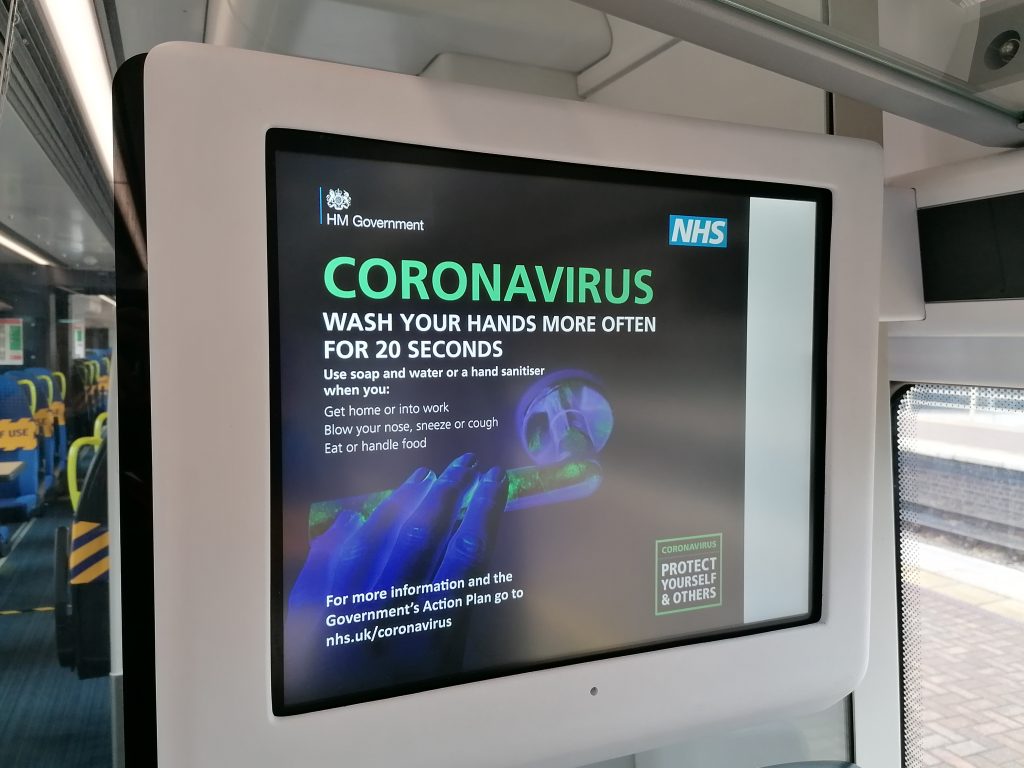 I can't but help wonder how many people will have to stand in the doorway area on busier trains or whether it will be limited to seated passengers only? Also how Northern hope to manage social distancing if standing is allowed.
Arriving at Huyton (Liverpool)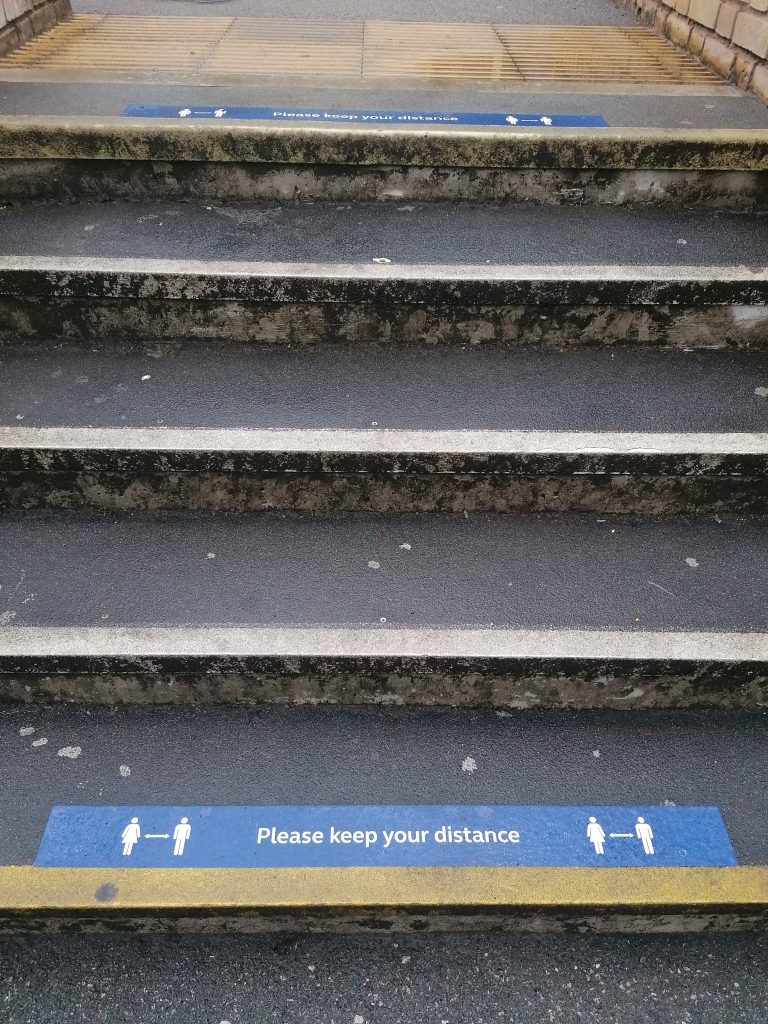 It was extremely quiet when getting off at Huyton station. There was no ticket inspection at either exit and no barriers. The station, managed by Northern had similar social distancing policies in place to Wigan North Western. A manned ticket office was open and toilets available.
I completed the journey to my destination using Alpha taxi company, a local Liverpool taxi operator. They provide a downloadable App for booking and card payments, although they do take cash. The taxi arrived in 3 minutes of booking with the car details provided in advance for security and peace of mind.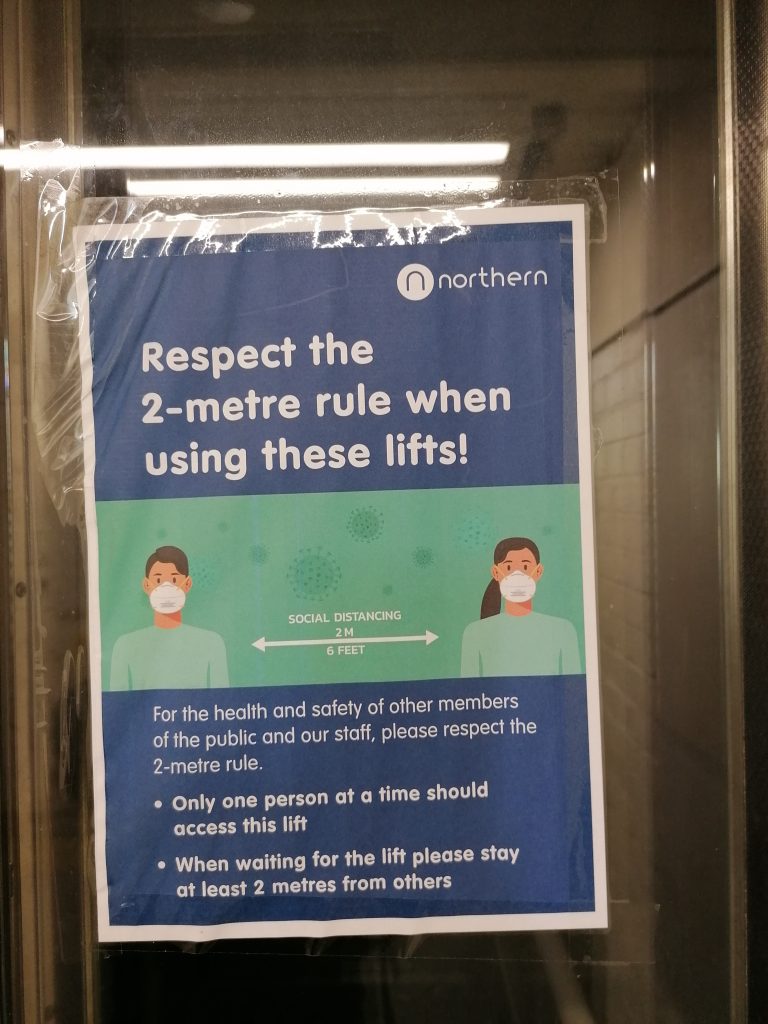 Returning to Wigan North Western
After a successful meeting, which I had timed to finish to avoid any potential rush hour, I booked a return train to Wigan North Western originating from Liverpool Lime Street.
This time I selected a slower train which stopped at all stations between Huyton, terminating at Wigan North Western. The 30 minute journey was also operated using the same type of 6 carriage train as the outward journey. The journey was as equally quiet with regard to passenger numbers.
Older Northern Trains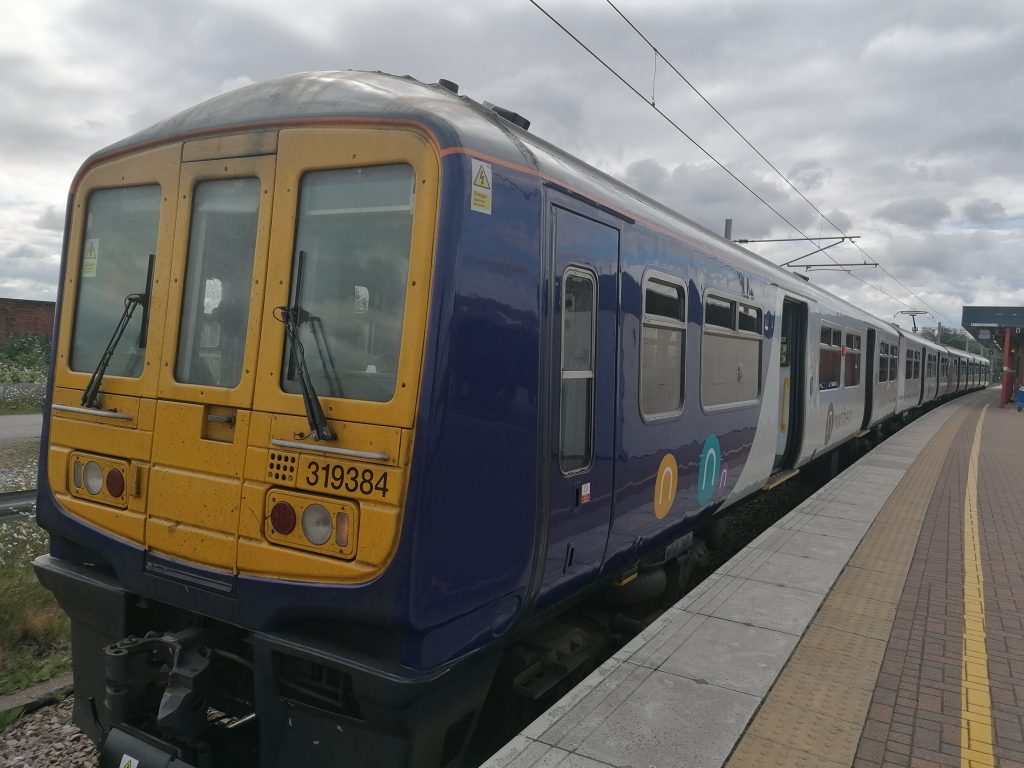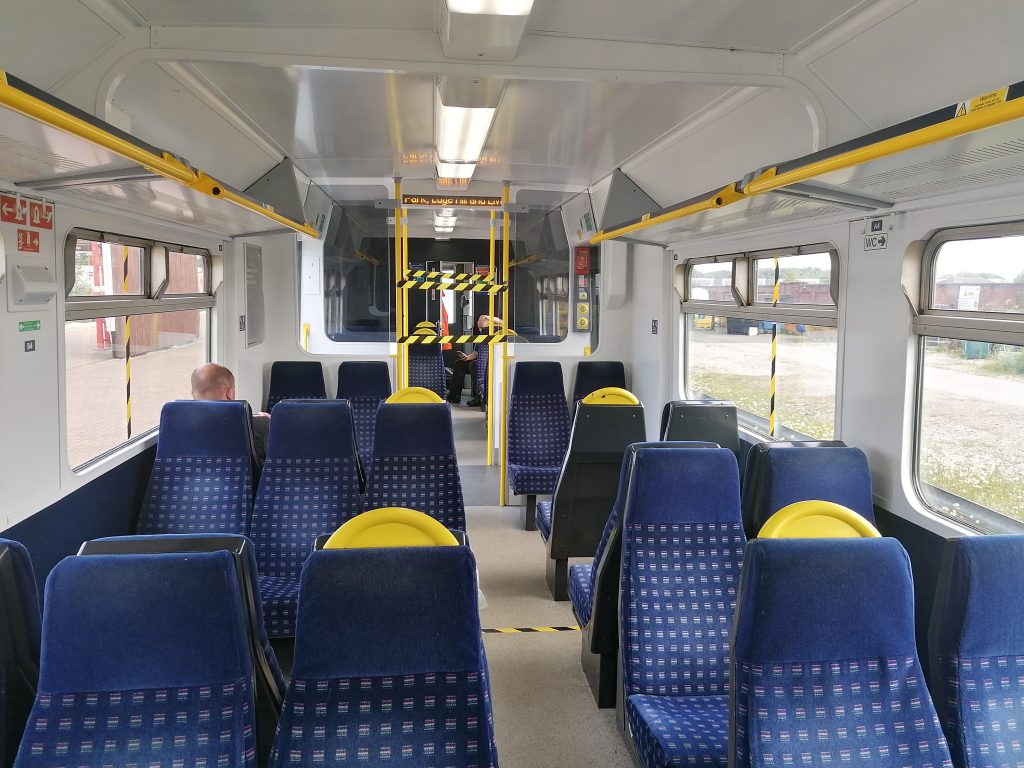 Unfortunately Northern have not kitted out all of their fleet with the same degree of social distancing measures. On some older trains (picture above), they have resorted to taping off areas of seats and the standing/door area around the driver door entrance. I cannot help but think this may be detrimental to social distancing, as passengers from sections of the train will have to enter and exit by one door area instead of two. We will see from the 15th June whether this is a help or hindrance. Rather tatty floor mounted waste bins between seat are also still available. On a positive note cleaning staff give the train a thorough clean at final destination.

Northern told WWO that this was a result that they could not acquire sufficient stock of seat not in use sashes. Instead, Northern request the travelling public to apply common sense as to which seat they sit on.
Key Differences with Avanti
This is based on information provided by Avanti and a real journey that our colleague took.
Available seating has been significantly reduced. Approximately only 1 in 4 seats is available.
Pre booking tickets are heavily recommended. However this was NOT enforced on the day of travel. What happens should you board a train without a pre-booked ticket is not clear. However Avanti do state that travel cannot be guaranteed!
Once a train seating capacity has been reached through seat bookings, it will no longer be available on booking systems.
Avanti encourage bookings for quieter periods. Busy periods are stated as 9:30 am to 1 pm and 4 pm to 6 pm.
Contactless or online booking is requested. It is NOT possible to use cash.
Unlike Northern and Trans Pennine, booking Office staff numbers have been reduced.
Train seats are not taped off as clearly as with Northern. Seats not for use are just marked with small window stickers.
Standing is not allowed.
Specific seat allocations cannot be booked.
Key Differences with Trans Pennine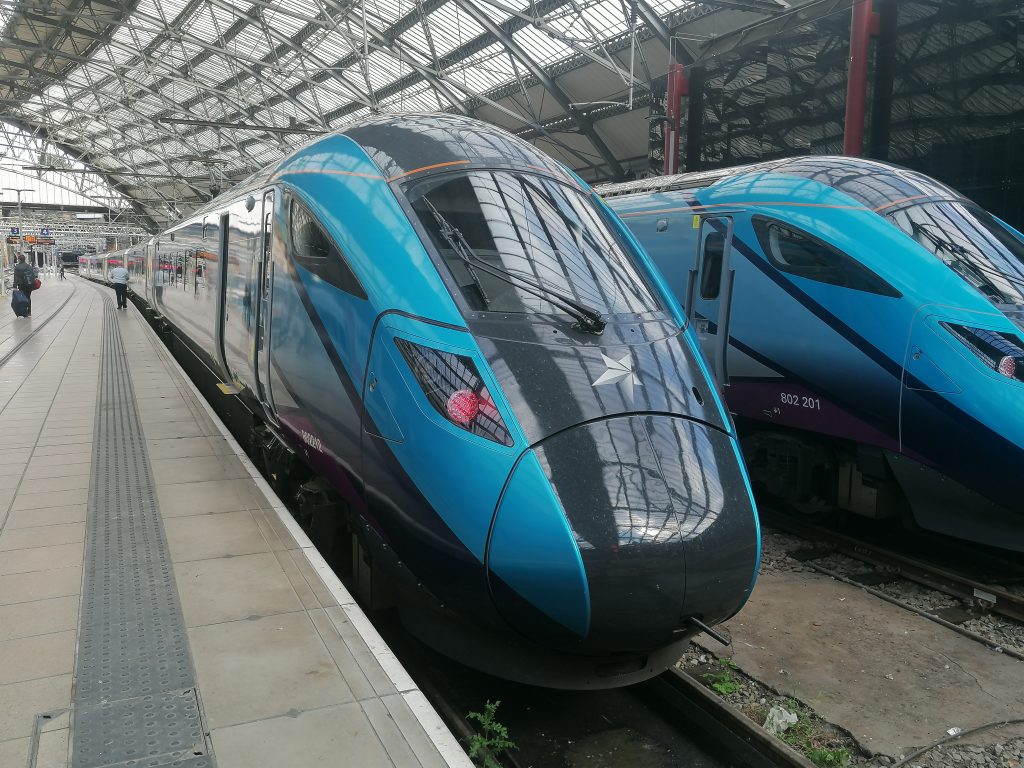 Advice from Trans Pennine is more limited. However some key points are;
A severely limited Trans Pennine timetable from Wigan North Western is in operation. There is only 1 early morning train each weekday to Glasgow Central and Liverpool Lime Street.
Seating is significantly reduced. Seats are marked with a green (available) or red (unavailable) labels. Capacity is limited to between 15 and 20 per carriage depending on carriage layout.
Pre booking is encouraged.
Travelling on off peak journeys (between 10am and 3pm and after 6pm) is recommended.
Specific seat allocations cannot be booked.
Bins are available on board.
No reference to standing being allowed can be confirmed. Please allow for patience if there is confusion and congested standing areas in the first days from June 15th.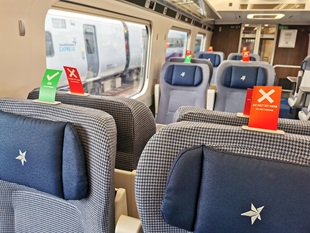 Assisted Travel
If you need travel assistance please check the following links;
Essential Train Travel from Wigan – Final Thoughts
Not representative of all north west commuting rail journeys.
Although it does only a single essential rail travel from Wigan to Liverpool, WWO wanted to see what train companies and stations have put in place for passenger protection.
It was an off peak service.
I purposely went off peak as it was not essential to travel during rush hour. I was able to get a better appreciation of what protection was available. At least WWO can now take into account how that protection may or may not help with greater passenger numbers.
Will Avanti and Northern limit the number of passengers on a platform?
WWO will check this with train management companies, then update this article.
Will Avanti and Northern limit the number of standing passengers?
WWO will check this with train management companies, then update this article.
Will passengers have to book in advance of travelling on certain services?
WWO will check this with train management companies, then update this article.
Can I still take my bike on my journey?
Yes on Northern Rail. Advanced booking required for Avanti and Trans Pennine.
What provision have the train management companies made for visually impaired or disabled passengers?
WWO will check this with train management companies, then update this article.
Avanti
As at the 6th June a essential train travel from Wigan on Avanti did not restrict passenger seats. However the number of passengers was extremely low. WWO understands that this may change by the 15th June.
Passenger Requirements
Although I did not need to wear a face mask when travelling, we understand that it will be mandatory to do so on all operators from the 15th June.
Further Information on Essential Rail Travel from Wigan
If you need any further information about rail travel during these exceptional times, please see the useful links below.
Northern Rail Travel Information (including COVID-19 arrangements)
Avanti West Coast COVID-19 Travel Information