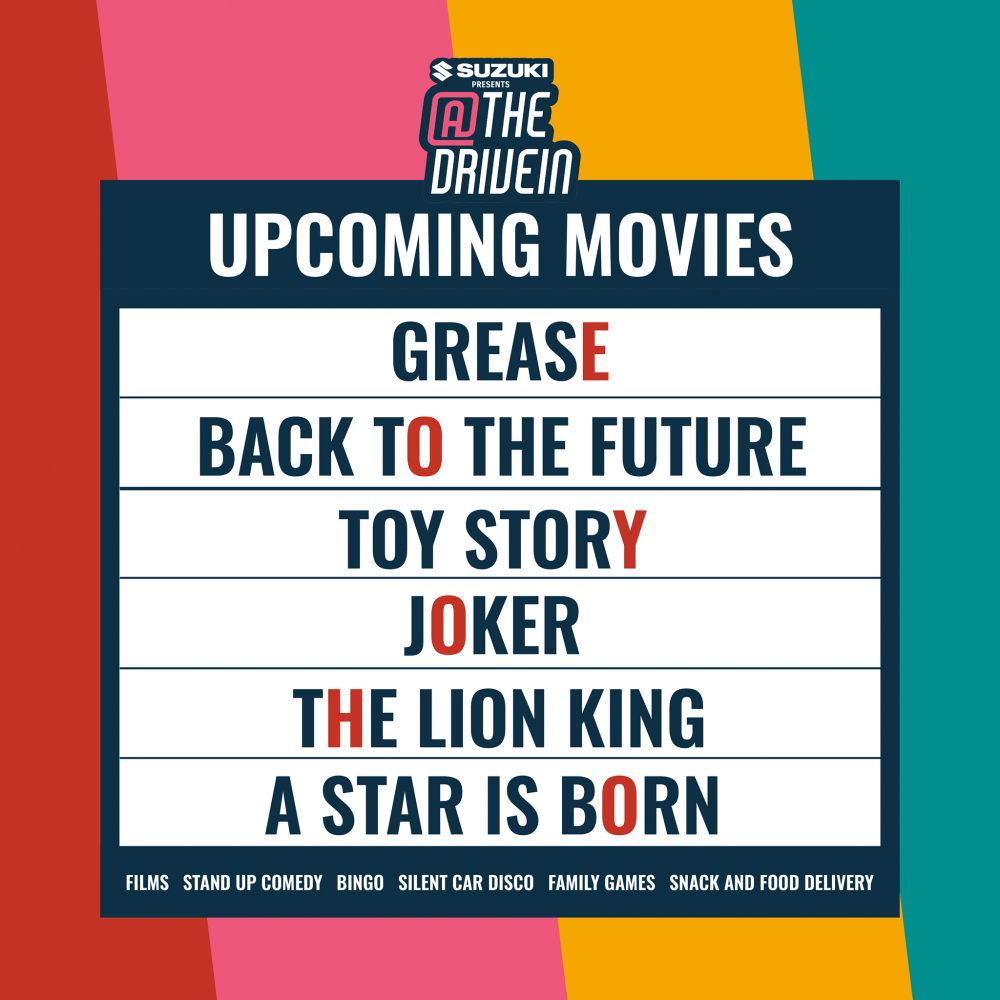 Arguably the safest way to enjoy a comfortable family trip to the cinema in the current climate. Although not an exhaustive list, we focus on two of the closest venues, Liverpool and Manchester. Currently the showings in Liverpool are in late August only. However those in Manchester extend to October. Read on to find out more about Drive In Movies – Safe Cinema.
Liverpool – Key Information
Dates
From Wednesday 26th August to Sunday 30th August inclusive.

Showings 2 pm and 6 pm.
Location
John Lennon Airport, Cheap Parking Area
Films
80's classics and 2010's blockbusters; Joker, Grease, Back to the Future, Jaws, Toy Story, Lion King
Pre Film Entertainment
A range of entertainment including stand up comedy, car karaoke or silent car discos.
Catering
Food and snacks available at your car with waiter service during the movie.
Costs
Understood as £35 per car
Covid-19 considerate
Extensive measures ensure (see below)
An exciting take on the classic drive in experience

It's a retro experience with a modern touch. It means a true drive in atmosphere but you get the sound straight to your car's radio. Sound transmission kit is from the biggest US Drive in Cinemas. At the same time a top of the range LED screen delivers a quality visual experience.
There is also a sing along version of Grease being screened on August 28.
You can order food and snacks through a mobile app from your car. Roller waiters will bring your order to a drop off point by your car.
To book tickets, visit www.seetickets.com For more information visit www.atthedrive.in .
TheDriveIn is a Mainstage Festivals event. They have hosted shows across the world for more than 20 years. and costs £35 per car.
Entertainment with Built-in Social Distancing
While the country slowly resumes its normal activities, @TheDriveIn provides simply the safest and most comfortable way of getting out with the family or friends for an evening of entertainment.

Cars are parked over two metres apart to provide naturally built-in social distancing. Entry will be via license plate checking, meaning no interaction between staff and guests is necessary. Toilet facilities and strict hygiene measures in line with government guidelines will ensure a safe environment for all, providing not only a coronavirus-proof way of going out, but a rare opportunity to bring back a few hours of normal life.
Manchester – Cinema, Theatre, Club Classics!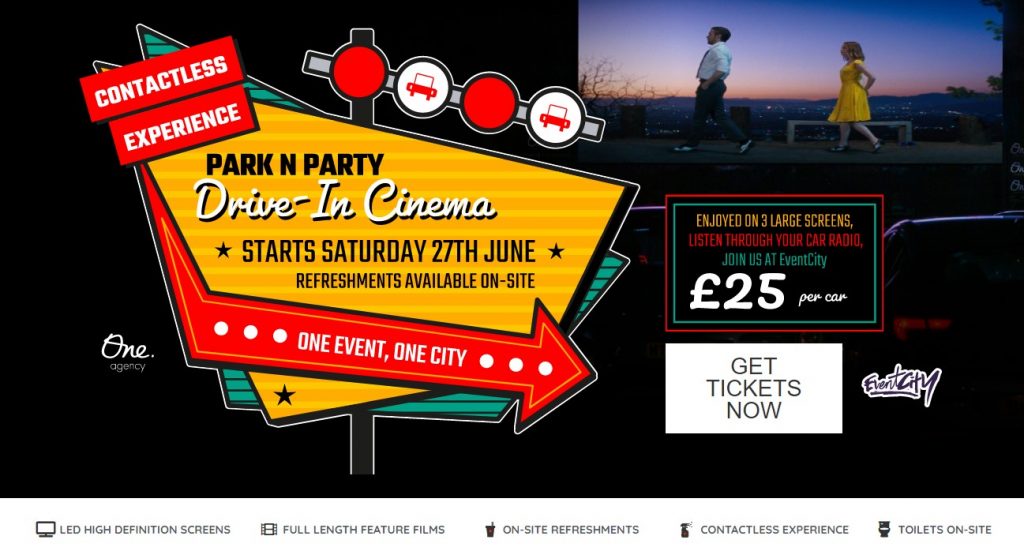 While you can only book from a limited set of dates at Liverpool, Manchester offers a dedicated drive in cinema for the rest of the year. It also offers a range of other entertainment including Park'n'Party Ibiza Nights and other Club Classics. Yes you can get out your car and dance in your own designated square!
What's On?
Films
A huge and varied range of classics, including; Dirty Dancing, Grease, Forrest Gump, Rocky Horror Picture Show. Full listings Prices are £25 per car.
Ibiza, Club Classics and More
From the safety and comfort of your own car. You can even dance the night away in your own socially distanced square! A night to remember. For information on individual events look here Prices are £35 per car.
Where Is It?

Unit 14 Schoolhouse,
Third Avenue,
Trafford Park,
Manchester, M17 1JE
Covid-19 Safeguarding
Park N Party is a space for people to go and enjoy live events with members of their household and social bubble, whilst sticking to social-distancing guidelines.
There is hand sanitizer readily available throughout the location.
Only allow 1 person at a time is allowed to use on-site toilets. Toilets are regularly cleaned.
Aside from the potential for a loo trip, you don't even need to leave your car. You can bring your own snacks if you want.
More Information
For more information on all events, tickets, arrangements and a contactless experience press here.
If you decide to go, please mention here you head about this. Also let us know how you get on.
Thanks #winstanleywo