Looking for meats or a butcher local to Winstanley? Perhaps some of Winstanley's locals are still unaware but BM Wholesale Foods in Marus Bridge is a fantastic place to shop for your all your meats. The meats are not only tremendous quality but also amazing value. Whether you are buying wholesale or four your family, you would be hard pressed to find better. I have to admit that I do not shop anywhere else now for my meat.

Public Shop as well as Wholesale
Although BM provides wholesale services, it is also very much a shop geared up for the public. Even better in the current Covid-19 climate is that I have never had to queue when shopping there. It is definitely worth a visit just to see the variety of finest quality meats at amazing value for sale. You do not have to buy in bulk to enjoy the prices and offers. Truly inspirational too as there are many prepared offerings as well as the plain meats. For example you will be bowled over with the varieties of chick breasts, pork steaks and other cuts ready marinated in a variety of tasty dressings including barbecue, peri-peri, garlic lemon and many many more.
Quality Meats at Great Value
BM butchers prepare and sell a great range of meats including chicken, beef, pork, lamb, sausage, bacon, gammon, fish, (breaded and battered). They also offer tasty marinades, sauces and seasonings, other handy groceries such as eggs, bread, fruit, cleaning products and packaging.
Whether you are looking for a sunday roast, barbecue meats, english breakfasts tender steaks, a quick cook meal, something plain, something spicy, a visit to the shop cannot fail to inspire you with ideas.
One of the best features is the ability to see your meat cuts being prepared in front of you by high class butchers.
Shop On-line
If struggling to get down there, then you can always use telephone or the on-line shop . Once you have placed your on-line order with BM Foods, they will contact you for payment, delivery or collection details and of course cover any discounts and special offers available at the time.
Location, Opening and More Information
To shop in person
Head to Sainsburys and Marus Bridge Asda but go straight past their car parks. Free parking is provided at BM Foods.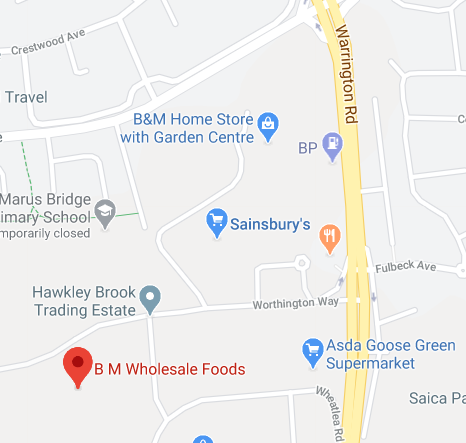 BM Wholesale Foods Shop
Unit 14
Hawkley Brook Trading Estate
Worthington Way
Wigan
Lancashire
WN3 6XE
Telephone Orders
Tel: 01942 665431
Opening Times
Monday – Saturday: 9:00 am to 5:00 pm
Sunday: 10:00 am to 4:00 pm
To find out more about BM Wholesale Foods click on the web link below.
https://www.bmwholesalefoods.co.uk/
PLEASE GIVE WWO a mention if you shop at BM Wholesale Foods. Thank you.