Liverpool Interactive Ghost Walk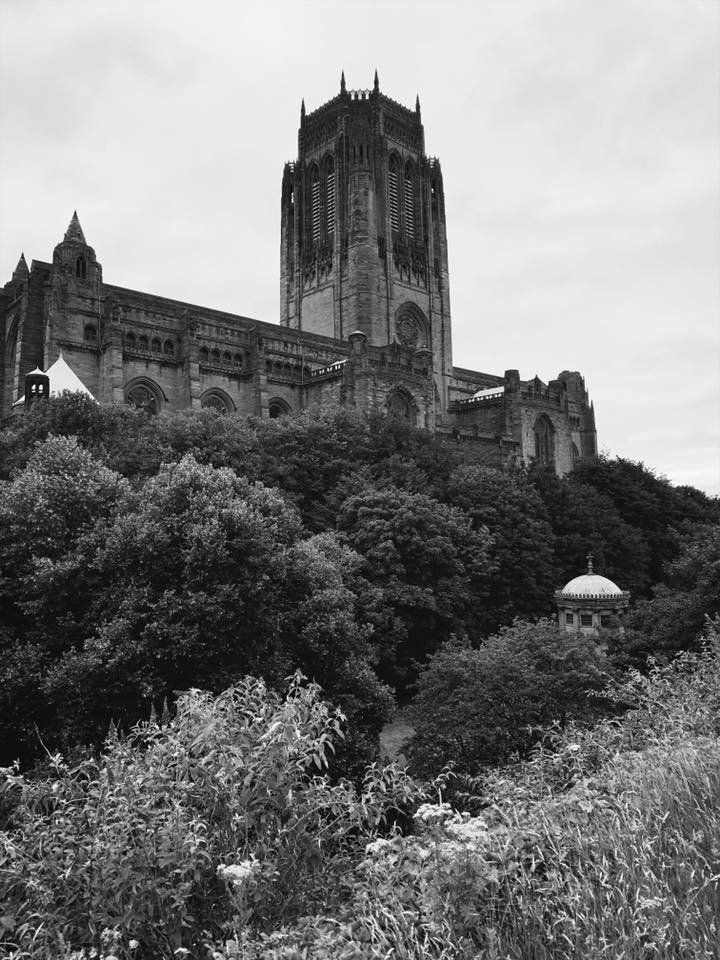 Friday 22nd October 7:30 to 8:30pm and 9 to 10 pm – Dates in November and December also available
The first of the Halloween Interactive Ghost Walks is at the nearby imposing Liverpool Anglican Cathedral.
Reputedly city's most haunted site at St Jame's cemetery. It closed in 1936 after nearly 58,000 burials and quickly fell into a state of disrepair. Now an an urban park behind the Liverpool Cathedral that is below ground level. Subsequently Enlish Heritage designated it a Grade I Historic Park.
The cemetery is said to be haunted by dozens of ghosts. Witnesses have seen the limping spectre of William Huskisson MP leaving his grand mausoleum. Buried there in 1830 after he tragically died under the wheels of George Stephenson's Rocket locomotive. It contains Liverpool's only running spring. Noted in 1773 by surgeon James Worthington who recommended it for 'Rickets, weak eyes, crudities of the stomach and lowness of spirits.'
The Leged Of Ginny Green Teeth.
The spring which flows from a wall in the cemetery has been linked to a witch named Jenna Green, who lived nearby. A river hag, she would pull children or the elderly into the water and drown them. Described as a green-skinned woman, with long hair, and sharp teeth, if you were playing out late at night etc. A ruse to get you home before dark. She is the origin of the Ginny Greenteeth folklore character of children's rhymes.

Beware of a vampire-like entity if you visit the graveyard after dark. Sightings go back to the 1960s. Many Ghost Hunts have taken place at this location with many strange paranormal happenings occurring.
This ghost walk lasts around 1 hour, clearly with some walking involved. It includes different ghost hunting techniques on the actual event. 
Brontë Interactive Ghost Walks – Haworth West Yorks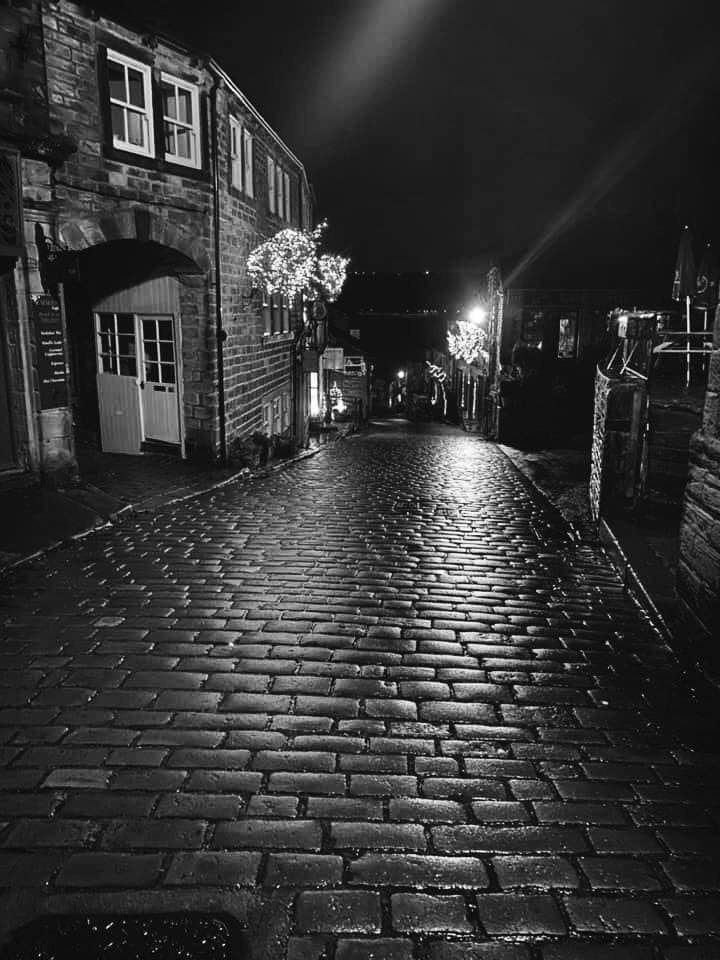 Saturday 23rd October 9 to 10 pm
Although a little bit further afield, roads at this time will be quiet. Join Haunting Nights and go back in time at this historic village in Yorkshire. The300 year old Black Bull is one of most haunted inns in the UK.It was Patrick Branwell Bronte's (brother of Charlotte, Emily & Anne Bronte) favourite place to drink.The story goes that Emily, his younger sister found some of his manuscripts. With a few minor alterations, she found a massive amount of fame as the author of "Wuthering heights". Branwell disassociated himself from his sisters, Unfortunately he later became an alcoholic and addicted to various narcotics. Finally he died of tuberculosis in 1848. Branwell's chair, along with many other original features, paintings & ornaments in the bar area.
The pub has a poltergeist in the bar area. The spirit has moved & smashed glasses. It has also rang a bell that hangs above the fireplace. Two figures often appear in the bar room – one wearing plain clothes and the other in a top hat.
The 18th century Kings Arms
A typical, dark Yorkshire building. At one time, there was a slaughterhouse at the rear. Also undertakers used the cellars. Previous proprietors held 'arvils' or funeral feasts. They comprised of a food was a coffin shaped currant cake, decorated with black paper flags. Over the years, sightings have included at least three different men dressed in black Victorian style suits haunting the Kings Arms. There have been many accounts of poltergeist activity and strange sounds from the cellars.
Haworth's graveyard was next to the town's drinking water spring.The graveyard is an incredibly crowded–one sometimes buried ten deep.The water flowed through the graveyard, causing it to be contaminated. As a result 41 percent of the population died before age 6. It also affected beer drinkers at the Black as the pub used that water to brew their beer.
This ghost walk lasts around 1 hour, clearly with some walking involved. It includes different ghost hunting techniques on the actual event.
Whilst on your ghost walk Haunting Nights will ensure that the government guidelines arer followed. Health safety and well-being of all of guests is paramount.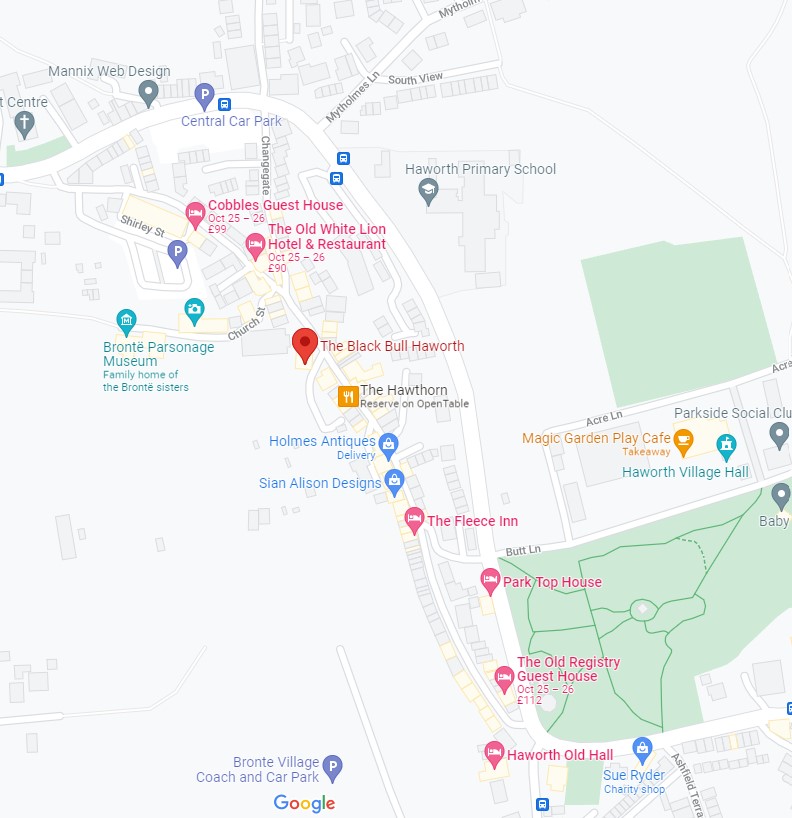 ---