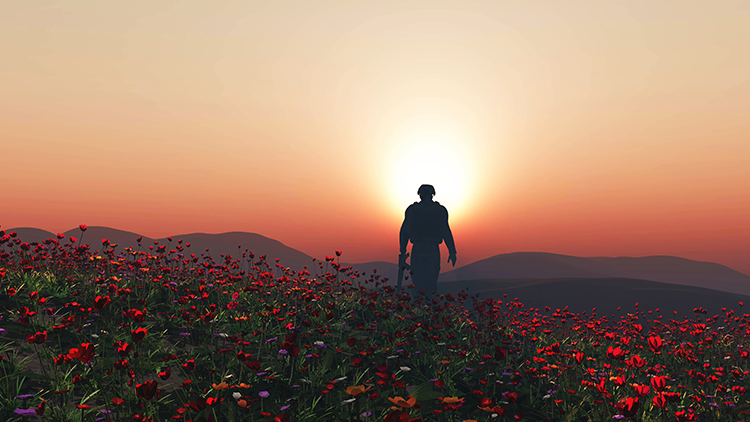 This year sees the return of Remembrance Day services following postponements due to Covid-19 in 2020. As Covid restrictions ease Royal British Legion collectors have been out our towns to raise vital funds to support the Armed Forces community. Their collectors have been at the heart of the Poppy Appeal in local communities for over 100 years. In Wigan a procession starts on Sunday from the Town Hall at 10.30am. It follows Library Street, Rodney Street, King Street, Wallgate, King Street West and Crawford Street before arriving at the Memorial. We though iy would be a timely to highlight some interesting facts about the poppy. Read on to find out more about Poppy Appeal Then and Now.
Whilst the Royal British Legion continue to manage the challenges of Covid-19, they want to ensure that everyone who wants to take part in remembrance can do so. Whether by making a donation for the traditional poppy, or by taking part in other activity.
A symbol of Remembrance and hope for a peaceful future.
As far back as spring of 1915, bright red flowers began peeking through the battle-scarred land on mainland Europe. We call them poppies Their true name is papaver rhoeas. People have also called them the Flanders poppy, corn poppy, red poppy and corn rose..
Wearing a poppy is a show of support for the service and sacrifice of our Armed Forces, veterans and their families. It represents all those who lost their lives on active service in all conflicts; from the World War I right up to present day. The poppy also honours the contribution of civilian and uniformed services. It recognises innocent civilians who have lost their lives in conflict and acts of terrorism.
Cutting Through Social Media Myths
Cutting through much of the misinformation on social media It's personal choice whether someone chooses to wear a poppy and how they choose to wear it. Whether paper poppies, pins, bag charms, pet poppies or on face masks, the best way to wear a poppy is with pride. Every year the rumour that poppy selling has been banned in some communities resurfaces. This is simply not true and each year thousands of volunteers from all walks of life take to the streets, train stations and supermarkets around the country for two weeks during the Poppy Appeal.
Why Red?
The poppy is red because that's the natural colour of the poppy flower. During the First World War previously beautiful countryside was blasted, bombed and fought over, again and again. The landscape swiftly turned to fields of mud: bleak and barren where little or nothing could grow. Yet out of this devastation the delicate but resilient bright red Flanders poppies grew and flourished in their thousands.
The actual flower does not have leaves! The Royal British Legion poppy did not have a leaf until the 1960s when the first poppy sprays were made as an addition to a poppy wreath. The spray had 5 silk poppies attached to 7 pieces of green fern. By 1984 demand for sprays them had grown to 12 million a year. In 1995 the poppies we see at collection boxes appeared with leaves for the first time.
A Reminder of What it is For.
The red poppy directly supports the Armed Forces community. It is support across the UK, Allied Forces and the Commonwealth. Only donations from the sale of Royal British Legion red poppies go directly towards helping the Armed Forces community.
How did a Persistent Flower transform to a Worldwide Symbol?
Shortly after losing a friend in Ypres in 1915, a Canadian doctor, Lieutenant Colonel John McCrae was inspired by the sight of poppies growing in battle-scarred fields to write his now famous poem 'In Flanders Fields'.

The poem inspired American War Secretary, Moina Michael, who bought poppies to sell to her friends to raise money for Servicemen in need after the First World War.

This was adopted by The (Royal) British Legion in 1921 who ordered a million poppies from Anna Guérin in France and commissioned a further 8 million to be manufactured in Britain. These were sold on 11 November that year in the first ever Poppy Appeal.
The poppy has been adopted as a symbol of Remembrance ever since.
8.
11. Poppies are recyclable
All of the parts of our poppies can be recycled. After Armistice Day you can recycle your poppy at any Sainsbury's supermarket.
There are also a variety of enamel poppy pins that you can wear instead of a paper poppy and we have a range of alternatives available from our Poppy Shop at www.poppyshop.org.uk. You can then choose to make a donation to the appeal every year.
We are committed to reducing the impact our poppies have on the environment and are working to remove all single use plastic in the future.
The Poppy and Real Life Poetry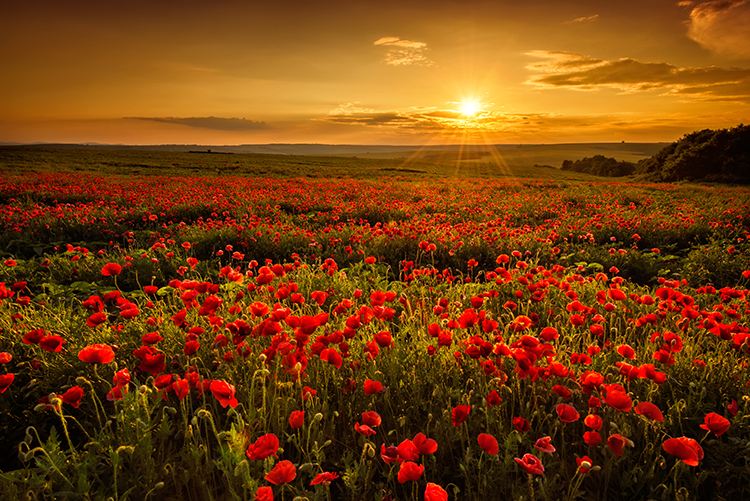 The poppy, as a symbol of remembrance day, all started with a poem, In Flanders Fields written by a World War I Canadian brigade surgeon. Lieutenant Colonel John McCrae was struck by the sight of the red flowers growing on a ravaged battlefield. It is fitting to look at two well known poems that contrast the views of war in a negative and positive light. McCrae tended to the wounded and got a first hand look at the carnage. The Germans unleashed lethal chlorine gas for the first time in the war. 87,000 Allied soldiers were killed, wounded or went missing in the battle. 37,000 on the German side perished too. McCrae died from pneumonia and meningitis in 1918. His poem became one of World War I's most popular works of literature. It inspired the poppy as the flower of remembrance for the war dead.
In Flanders Fields – John McCrae
In Flanders fields the poppies blow
Between the crosses, row on row,
That mark our place; and in the sky
The larks, still bravely singing, fly
Scarce heard amid the guns below.
We are the Dead. Short days ago
We lived, felt dawn, saw sunset glow,
Loved and were loved, and now we lie,
In Flanders fields.
Take up our quarrel with the foe:
To you from failing hands we throw
The torch; be yours to hold it high.
If ye break faith with us who die
We shall not sleep, though poppies grow
In Flanders fields.
Wilfred Owen
Perhaps one of the most renowned World War I poets was Wilfred Owen. He wrote just 5 poems in his life. His work comprised harrowing descriptions of combat. Owen was only Just 21 years when the war started. He enlisted in the British army in 1915 and took part in heavy fighting in France. Owen entered a convalesce hospital in Scotland with shellshock in 1917. There, he began writing about his experiences at the urging. A fellow World War I poet Siegfried Sassoon urged him on.
By 1918 he had produced several now-famous works including Strange Meeting, Anthem for Doomed Youth, Strange Meeting and Dulce et Decorum Est. The latter which describes a gas attack in grim detail. Owen openly spoke of his increased opposition to the war. He described soldiers being sent to "die as cattle". Yet despite this, Owen returned to the front lines in August 1918 and was later killed while leading men across a canal in France. His mother received notice of his death on November 11, 1918 – tragically the same day that World War I finally came to an end.
Dulce et Decorum Est – Wilfred Owen
Bent double, like old beggars under sacks,
Knock-kneed, coughing like hags, we cursed through sludge,
Till on the haunting flares we turned our backs,
And towards our distant rest began to trudge.
Men marched asleep. Many had lost their boots,
But limped on, blood-shod. All went lame; all blind;
Drunk with fatigue; deaf even to the hoots
Of gas-shells dropping softly behind.
Gas! GAS! Quick, boys!—An ecstasy of fumbling
Fitting the clumsy helmets just in time,
But someone still was yelling out and stumbling
And flound'ring like a man in fire or lime.—
Dim through the misty panes and thick green light,
As under a green sea, I saw him drowning.
In all my dreams before my helpless sight,
He plunges at me, guttering, choking, drowning.
If in some smothering dreams, you too could pace
Behind the wagon that we flung him in,
And watch the white eyes writhing in his face,
His hanging face, like a devil's sick of sin;
If you could hear, at every jolt, the blood
Come gargling from the froth-corrupted lungs,
Obscene as cancer, bitter as the cud
Of vile, incurable sores on innocent tongues,—
My friend, you would not tell with such high zest
To children ardent for some desperate glory,
The old Lie: Dulce et decorum est
Pro patria mori.
The Latin phrase at the end is somewhat ironic. It is a quote from the from the Roman poet Horace. It translates as: "It is sweet and fitting to die for one's country."
Poppy Appeal Then and Now – Further Reading
Want to know more? Here are a few relevant links that you may find interesting.
You could try the The Book of the Poppy by Chris McNab. Written in 2014 to coincide with the 100th anniversary of World War I. Updated in 2018 an interesting book that covers a lot. It addresses views from those who support the poppy as well as those who claim it glorifies war.
If you want to get involved have a look on the Royal British Legion site.