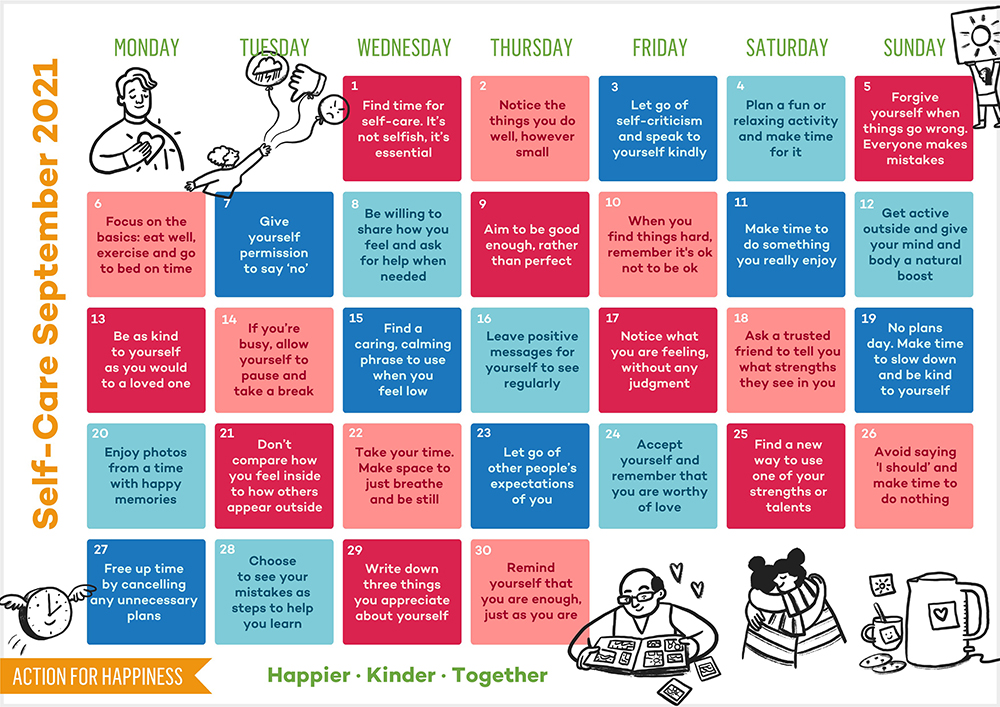 In a time where we are busy doing our jobs, supporting children, doing the housework even maintainnig the garden, do not forget some time to consider you. To do so is not selfish or self centred. After all, if you aren't in good shape, you aren't in a good place to help all the others we have mentioned. So looking after yourself this September will help you and others.
It's easy to read an article, smile and feel good. Then the daily grind resumes and you say, I will start tomorrow. Perhaps you thionk Monday is a good day to do it as it's the beginning of the week. Or even I haven't time I am too busy. If the latter, it is even more important to take 5 minutes. That's all it takes. Surely it is better than wasting 5 minutes worrying about something that you have no control over.
How to Start
Use thecalendar above to give you some ideas. Start small, that way you are not setting yourself up to fail. That's why each day has only a single task. Feel free to chage the tasks around. Pick one that you can do easily. The main point is to do something and now. The first step is often the hardest. Just stopping each day to pick one is in itself, treating yourself woth respect.
How many times do you worry about family and friends, advising them to take time out. Yet we often press on thinking we do not have time to do the same. It has long been recognised that an army stops to refuel regulalry before they feel the need to do so. Well you are your own army and you need to do the same in order to operate to full potential.
Looking After Yourself this September – Final Thought.
It is easy to laugh off looking after youyrself like this as woke. not for you or whatever other excuse you can dream up. Just give it a go, you have nothing to lose. You may even be pleasantly surprised.